Welcome to Fiddlers Green Portaferry
Fiddler's Green is famed for its characterful bar, hugely popular with locals and visitors alike because of the wide variety of live music played and the welcoming and convivial atmosphere (the Guinness is second to none also!)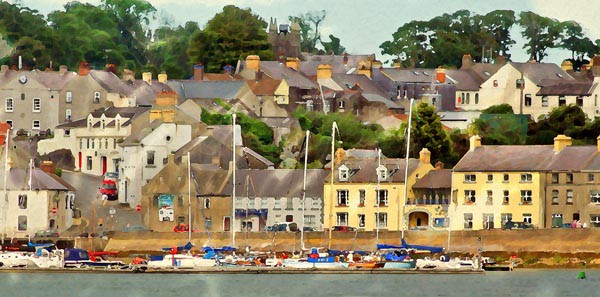 Portaferry lies at the end of the Ards Peninsula, and from here a ferry plies across "The Narrows," the site of a spectacular tidal torrent four times a day as the water sweeps in and out between the Irish Sea and Strangford Lough.
Fiddler's Green is a well regarded Bed & Breakfast which serves up the best Ulster Fry in the town. There are a selection of rooms to choose from including a beautiful Four Poster En-Suite. Fiddler's Green is approved by the Northern Ireland Tourist Board.
Warm, fun bar with superior customer service! We were only here for a very short time...passing through to have a pint and see the GOT door. But the staff could not have been more kind and welcoming. Probably our favorite little bar in Northern Ireland. If we come back...we are definitely spending more time here.
Brandy E
Trip Advisor
5/5 A proper Irish pub. Drinks are cheap and the live music is great.
Olivia Richardson
Google Reviews
· The atmosphere and music of an authentic irish pub and the staff were exceptional.
Ray
Booking.com
Unbelievable Hospitality We visited here for a late drink recently & enjoyed the live music & friendly atmosphere. After enquiring about a taxi back to our own accommodation the bar lady insisted on driving us there. Where else would you get hospitality like it?
Greg M
Trip Advisor
Fiddler's Green is approved by the Northern Ireland Tourist Board.
Fiddler's Green is situated in the central square of the historic and attractive small town of Portaferry within a stone's throw of the ancient castle.